Hello 2020?
Yes it's me - although I'd really like to return you, I recognize there are some little sparks here and there
Like what you ask?
LIKE THIS NEWSLETTER FOR ONE 🙃👹👾👽💩🤡🍷

👶🏻 Like San's baby boy, Elijah birthed, healthy and as Swiss x Nepalese as it comes!

🧀 OG French Camembert. It STINKS but ha-le-lu-jah is that cheese or heaven on my tongue? And it costs less than €2/$2.5/¥16 😭😭(my cheap Dutch heart loves this)

🌅Sundowners: you should aim to experience one every day. Seriously
This one is late, I was getting happily fat on Camembert and so should you.
Love you XOXO,
Sim
PS. I'm trying out the newsletter on WeChat too - search for "HiSimona"
---
Better "Bitch" than "Mouse"
IT WAS SO FRUSTRATING to only discover about RBG's existence since this weekend.. yes I just crawled from under a rock, don't judge 🙅🏻‍♀️. If you're with me and didn't know about her - here's a quick summary of why we should've known about Ruth Bader Ginsburg already.
Ruth was one of nine women in a Harvard class of 500+ men, the second woman to serve on the United States Supreme Court and a pioneering advocate for women's rights. AKA the baddest B in town.
"To make life a little better for people less fortunate than you. That's what I think a meaningful life is. One lives not just for oneself, but for one's community."
Without RBG our lady friends in the USA wouldn't have been possible to
Sign the right to a mortgage without a man

Prosecute husbands for raping their wives

Have a bank account without a male co-signer

The right to have a job indifferent of gender

Be pregnant and have kids at work
Let that just sink in for 2 seconds… 🤯
And while you ladies and gents out there think you're hustling thru life. Her mom died of cancer when Ruth was 17 yo. RBG's husband was diagnosed with cancer when they were both attending Harvard Law School, so RBG attended on behalf of both of them while taking care of their baby daughter in the meantime. RBG also battled cancer herself four times since joining the Supreme Court.
*Mic drop*
I can share my Prime details with you if you don't have an account. You should watch her documentary!!!! I hate documentaries (no patience) but I'm at the first five minutes and loving it already. Watch it. Shirley, you'll love it.
---
WOAH, more inspo
I'm stuck on the impressive boss ladies this week - so just continuing here. Tu Nga and my surfer friends this one goes out to you:
Se tem algo que eu nunca vou esquecer dessa onda é o barulho que fez ao quebrar atrás de mim. Foi assustador. The thing I remember the most about this wave was the noise when it broke behind me. I was quite scared to realize that intensity was so close to me ! Video :
@polvo32
🏄🏼‍♀️ That video is just cray. Who the hell surfs this?! Maya does. A Brazilian female surfer, who surfed the biggest, tallest (22.4 meters) wave of the year. Some might call her"riper" (33 yo) but the more impressive it is that she is shortening the gender gap in a male-dominated sport. She is hoping "to inspire other women too".
@Tu Nga - time to take on those 22-meter waves
@The rest of us - time to realize our lives and capabilities def don't end at the end rim of 30
---
I'm Investing: Vanguard S&P500
After last week's Vanguard FTSE's All-World, this week's feature: Vanguard S&P 500
What's Vanguard S&P 500?
Opposed to last week's All World tracker, the S&P 500 is an index fund that tracks companies a̶r̶o̶u̶n̶d̶ ̶t̶h̶e̶ ̶w̶o̶r̶l̶d̶ in the US that are making it rain.
Its main investment group is tech with 25.22% and its top 5 positions are Apple, Microsoft, Amazon, Facebook and Alphabet.
S&P500 Risks?
you're investing

you're investing in US companies only

you are exposed to the GBP/USD exchange rate
What are the gains?
🥜 I bought it for €51.72 and it's now at €53.49 🤷🏻‍♀️. Better than Dutch savings accounts (0.01%) but 🤯🤯🤯 compared to Tesla's past year performance ($50 vs $451).
Give me more
This talk at Google from 2014 to feel smart and have it on as background music while getting ready for your day of "working at home". It discusses to not invest in US stocks, how home country bias is a terrible idea and the general theme of diversifying.
It takes an hour. Don't play it at 1.5x its speed.. I tried and failed.
---
The "That's-Nice" Corner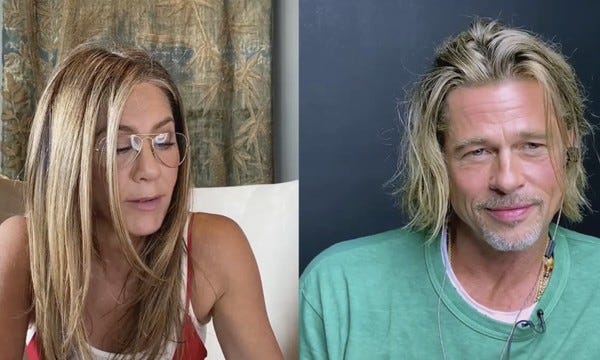 The internet exploded this weekend, if it wasn't about RBG it was about Jen/Brad/Matthew McConaughey/John Legend/Julia Roberts/Morgan Freeman and 33773 Hollywood actors doing this table reading. I don't know what made me more nostalgic: Brad & Jen "reunited" or the full-on nudity and some other eyebrow-raising-scenes in the OG movie. Both are worth it to watch tho. Watch the table read first before the movie.
Apparently there's a thing called " Comedy Wildlife Photography Awards". If you're feeling out the ones above check these out
---
New Moon, New You
🌚There's a Super New Moon In Virgo which reminds us not to get stuck in the past, that life goes on, giving us the opportunity to start over and begin anew: aka take life by its balls because every day/moon is a clean slate
♉️ Taurus: take the path of least resistance, have no discussions and reach out to friends who you have neglected (it's time to call Simona)
🐂 Chinese Oxes from 1985 and 1997: you have an exquisite knack for finding the right investment opportunities. But make sure you don't get involved in businesses you don't know. Avoid risks and go for the opportunities you already know (Edgar.. this one goes out to you)
🍕If you love pizza: order pizza this Thursday
🤥If you don't love pizza: reconsider whether you are lying to yourself. Order a pizza this Thursday
---
Instagram Wisdom
---
Monday Wisdom
If not today, then when?